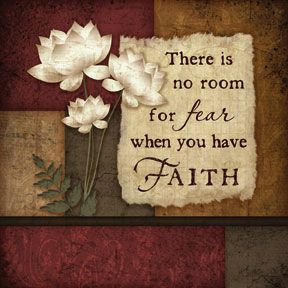 "The same spirit gives great faith to another, and to someone else the one Spirit gives the gift of healing." 1 Corinthians 12:9

All Christians have faith, but some have an unusual measure of trust in the Lord. In Romans 12:3, the Bible tells me that God gives us all a measure of faith when we get saved. Again, all of us have a measure of faith, but we have to exercise and develop it. I've had people tell me (Christians included), that they wish they had my faith. I believe that if God has given someone a greater measure of faith… it still needs to be tested and developed in order for it to fully manifest in one's life. Does that make sense?
The only way I know to have your faith refined is to go through adversity. We don't want to hear that word…we don't even want to think about it…
"But he knows the way that I take; when he has tested me, I shall come forth as gold."
Job 23:10
"We can rejoice, too, when we run into problems and trials, for we know that they help us develop endurance. And endurance develops strength of character, and character strengthens our confident hope of salvation." Romans 5:3-4
Again, the problems we run into help develop our character, our trust in God, and it helps develop our faith! As I get these posts together, I'm really blessed by what I read in my Bible Commentary. I was led to John 20:1, this is when Mary Magdalene came to Jesus' tomb and found that the stone from the grave had been rolled away from the entrance…
People who hear about the Resurrection for the first time may need time before they can comprehend this amazing story. Like Mary and the disciples, they may pass through four stages of belief. (1) At first, they may think the story is a fabrication, impossible to believe. (2) Like Peter, they may check out the facts and still be puzzled about what happened. (3) Only when they encounter Jesus personally are they able to accept the fact of the Resurrection. (4) Then as they commit themselves to the risen Lord and devote their lives to serving Him, they begin to understand fully the reality of His presence with them.
*This one small paragraph seems to say it all.
So tomorrow we'll continue with the gift of healing……