I Don't Know This Chick Anymore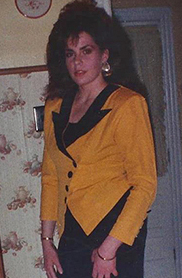 I had just finished re-reading the first two volumes of my Memoir, when immediately I was grasped with an urgency to start working on number three.  I realize that I need to tell you… when my first two books were written, I was still out in the world – able to physically get around so much easier than now.  Today I am for the most part home bound.  When I do venture outside, it's usually because I have a Dr.'s appointment.  I rarely get to church anymore, and occasionally do I get to go out with a friend for lunch or dinner.
"And you shall remember that the LORD your God led you all the way these forty years in the wilderness, to humble you and test you, to know what was in your heart, whether you would keep His commandments or not.  So He humbled you, allowed you to hunger, and fed you with manna which you did not know nor did your fathers know, that He might make you know that man shall not live by bread alone; but man lives by every word that proceeds from the mouth of the LORD."  Deuteronomy 8: 3
The old Lori is long gone.  The greatest blow to my outer man has been the greatest blessing to my inner man.  God has given me many rubies and nuggets of wisdom in this desert, and I know that my job is to share them with you.  I was suddenly pulled away from the things of this world and I was forced to spend time alone with Him – on His terms.  Eye-opening treasures of darkness… that's what I've found!  In the wilderness, God shows us who we really are and not who we think we are.  This is when we realize how naked, poor, miserable, and spiritually bankrupt we truly are!  I think one of the most difficult things to learn is the Sovereignty of God.  Sometimes God's Sovereignty is a very scary and extremely painful thing.  Nevertheless, it is His refining fire that's made to rage around us and burn out all of the impurities that stop us from living a godly life.
Life radically changes.  In a nutshell, God shuts down the outside so He can work on the inside.  Things are taken away because you need to be free from anything that can distract you from His work in your life.  After many years of living in this desert place, I've become more and more skilled at trusting the goodness and wisdom of the Lord.  The wilderness is a place where you will learn how to live by every word that proceeds from the mouth of God for everything – and I mean everything in your life.  And that is the goal… to live by every word that proceeds from the mouth of God.  This is what God is looking for… faith that rests on Who He is, and not on what is happening around you.  Every area of your heart will be shaken, but faith that rests on Him alone will not falter.
The word "preparation" has been in my spiritual vocabulary a long time.  God, in His mercy has given me the deep reassurance of that.  He has put so many affirmations of this "preparation" within my reach; books, videos, CDs, testimonies.  And then, there's the story of Joseph, and how it applies to being in the wilderness.  Poor Joseph was up to his neck in adversity.  But, do you know what?  Shadows provide a service that the sunlight doesn't.  It took many years of hardship in a harsh and isolated prison, but Joseph learned humility and how to serve.  In quietness and confidence he had found his strength.  Just like Joseph, we finally surrender to the process and new character emerges.
My goodness, how difficult it is to understand why God would allow such harsh trials and tribulations in our lives!  But everything changes inside of us when we see His bigger purpose in the things He has allowed.  Before we are placed in our life's roll, we have to be brought down to the end of ourselves and there cannot be as so much of a hint of pride or self-exaltation.  The vital thing to remember when you're in the wilderness is that as long as you cooperate with God and don't fight or strive against Him, you will come out (as long as it takes) a truly transformed, and holy "you."  You will have a remarkably changed heart that beats like His, with the same love and compassion for others.  And that's why God put you through the wilderness.
All three volumes of my memoir can be downloaded free here… http://www.lorilaws.net/my-memoir/
"Who is this one? Look at her now. She arises from her Desert of Difficulty Clinging to her Beloved."  Songs 8:5