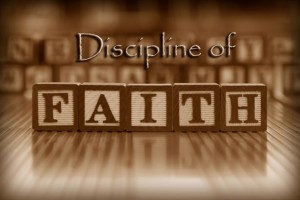 Hey friends, I'm thinking that it's about time to sit down and write something new for you to read
 It's been some time since I last posted anything and you've probably been wondering what's going on.  When I first started blogging, I posted almost every day.  And I feel that God now has me in a time of transition… where doors that have been familiar to me these past few years in this wilderness (namely, writing) have been slowly closing, and new doors are opening up for me; like when the Israelite's time in the desert was coming to an end – their Heavenly manna ceased to come.  In the past few months, I've noticed that my manna has been slowly diminishing.
It's exciting to see the new things and new people God brings into my life. Today I want to write about how God has trained/and still is training me for a life of faith. This training requires many areas of learning, including – the trial of faith, the discipline of faith, the patience of faith, and the courage of faith. 
I've come a long way, baby!  God has brought me a mighty long way, with still a mighty long way to go!  First, He developed/develops godly character by having me endure the discipline of faith… and to the natural man this is brutal!  Heck, even to the spiritual man it's brutal!  First and foremost, God is the only way any of us can attain genuine moral character.  It's only by His mercy we change.  The spirit is always at war with the flesh.  I think the way I've learned/am still learning the discipline of faith is when I pour out my prayer requests to God… then all is silent, the answer I need doesn't seem to come.  This made me learn how to wield the sword of faith.  I've learned how to stand, and keep standing on His Word, even though my circumstances seem to be a contradiction.  Even in view of that opposition, I've grown stronger and learned how not to be swayed in my stance of faith.
Walking through the wilderness, I've learned that God often purposely delays in giving us answers.  In fact, the delay is just as much an answer as the fulfillment of our original prayer.  Only through this discipline of faith are we equipped for the work God has chosen for us to do.  Many years ago the Spirit of God spoke words to me, words I've written here many times.  I hide these words in my heart; they keep me going…
[ba-divider style="solid" color="#000000″]We have a skylight in the bedroom above our bed. Unfortunately, there is so much light pollution; it's hard to see stars. I was feeling discouraged because of my physical condition, and I suddenly heard the Lord speak to my spirit. I was looking up in the sky and saw a really bright star. The Lord said, "I am that bright star."Clouds rolled in and completely covered the star. All I could see was black. Then He said, "Your problems and trials will sometimes be as thick as these clouds, making it impossible to see me. But I am still there." The clouds rolled away, and I could see the star again. He continued, "Just as these clouds dissipated, yours will too." Wow![ba-divider style="solid" color="#000000″]
As time goes on, the fulfillment of this word seems more and more impossible.  My soul has been tried.  It's still being tried, but it's also a time of deeper spiritual growth and development.  Nothing will try you more than waiting on God.  It gets harder and harder to wait as you see the days go by with no fulfillment.  But I know that God's words and promises are true, and the whole process is bringing me into a deeper knowledge of God that would otherwise be impossible.