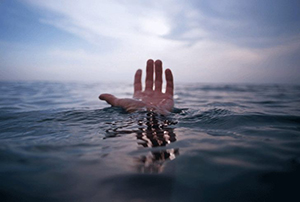 Something God had recently put on my heart is to "speak to My People who are yet to be My People."
Jesus said to him, "I am the way, the truth, and the life. No one comes to the Father except through Me."  John 14:6
Jesus is the only way, my friends, and He's looking for your total surrender.  Who's sitting on the throne of your life?  Who's making all the decisions that concern you?  Is there some past or present pain in your life?  Have you've been hurt or betrayed?  As a result, you keep an invisible wall of protection up and don't let anyone get too close to you.  You find it hard to trust.  The good news is that you can be set free from the fear and anxiety, or whatever else is keeping you bound.
The Christian life is not easy, Jesus even told us that.  But He also told us not to lose heart because He has overcome the world!  Go have an honest talk with your Creator.  Put Him on the throne of your life.  Surrender your past, your present, and your future to Him.  You are going to have to stand ALONE sometimes.  People won't get YOU, won't understand you, but focus on PLEASING GOD, who has the Keys to your True Destiny!  Stop following the CROWD, and looking for popularity, acceptance and approval from man.  Let God be God in you.  It's for His Glory!  It's amazing how He will change you with His love.  He will change your way of thinking.  He will give you new perspective.  This is what it means to be born again.  His Holy Spirit will reside in you and He will teach and guide you into all truth.
Therefore, if anyone is in Christ, he is a new creation; old things have passed away; behold, all things have become new.  2 Corinthians 5:17
The winter is fast approaching on all of us (Not just in the natural realm, but in the Spiritual realm).  We need to spend a lot of time in the Son, drinking in the water of His Word so that our roots will grow deep to anchor our souls to Him before the harsh winds blow.  We need to wake up out of our slumber and see that end time bible prophecy is unfolding before our eyes.  We are living in the times the prophets of old wrote about and longed to see.  The day of the Lord is quickly approaching.  God chose you and me to live in this perverse and perilous generation, but His plans are great for you.
Now as He sat on the Mount of Olives, the disciples came to Him privately, saying, "Tell us, when will these things be?   And what will be the sign of Your coming, and of the end of the age?"
 And Jesus answered and said to them: "Take heed that no one deceives you.   For many will come in My name, saying, 'I am the Christ,' and will deceive many.   And you will hear of wars and rumors of wars. See that you are not troubled; for all these things must come to pass, but the end is not yet.   For nation will rise against nation, and kingdom against kingdom. And there will be famines, pestilences, and earthquakes in various places.   All these are the beginning of sorrows.  Matthew 24:3-8
…but the people who know their God shall be strong, and carry out great exploits.  Daniel 11:32
Remember how God protected the Israelites from the Angel of Death (the last plague in Egypt) by telling them to put the blood of a slaughtered lamb on their lentils and doorposts?  The Angel of Death passed over those who had the blood covering.  Jesus is the slaughtered Lamb of God, who died to take away the sins of the world.  We need to be covered with the blood of the Lamb.  Those who take shelter in Him will find the protection and nourishment they need to survive in these last days.
If you have been delaying, do so no longer.
May you be blessed with peace and understanding in these days.
∗∗∗Please share this short post, it truly is a matter of life and death.