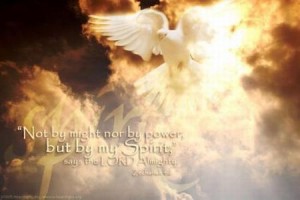 "the Spirit of truth, whom the world cannot receive, because it neither sees Him nor knows Him; but you know Him, for He dwells with you and will be in you."  John 14: 17
Do we really know Him?  He's the most ignored member of the Godhead.  We need to know what is of God and what is of the flesh… and the only way we can see that difference is getting the gift of discernment from the Holy Spirit.  He's not just an emotional experience.  He's a person who removes the blinders from our eyes.  He's waiting to give us wisdom from God Almighty.  It would do us well to recognize and worship Him!  I want to know what His ministry is in me.  I totally want to cooperate with Him.
"The grace of the Lord Jesus Christ, and the love of God, and the communion of the Holy Spirit be with you all. Amen."  2 Corinthians 13: 14
Allow me to list three truths about Him:  The first truth is He walks with us.  Walking in the Spirit simply means allowing Him to do what He came to do… to prepare the bride of Christ for the supper of the Lamb.  That's His mission, and everything He does is for that purpose.  Secondly, He's waiting to give us wisdom.   I believe the Holy Spirit is talking through Paul when he wrote the next verse (God sent me to bring you to Him as a chaste virgin)…
"For I am jealous for you with godly jealousy. For I have betrothed you to one husband, that I may present you as a chaste virgin to Christ."  2 Corinthians 11: 2 
Thirdly, He was sent to expose all of the trappings of the devil (Satan disguises Himself as an angel of light).  It is by faith the Holy Spirit releases the things of God.  Our mortal strength is no match for Satan, but the Holy Spirit's supernatural strength is more than enough!  With you and the Holy Spirit, Satan runs away with his tail between his legs!      
The greatest manifestations of the Holy Spirit are the conviction of sin and the searching of hearts.  Ever say something to another person, and immediately you know that what you said should have never come out of your mouth?  Or whatever action taken on your part was wrong.  That's godly sorrow… a conviction of sin.  The Holy Spirit won't leave you, but He won't cooperate with you when you're walking in disobedience.  He will constantly remind us of who we are – a child of the Most High God.  The Holy Spirit reveals to the bride the wonderful things that are prepared for her. 
"For since the beginning of the world Men have not heard nor perceived by the ear, Nor has the eye seen any God besides You, Who acts for the one who waits for Him."  Isaiah 64: 4