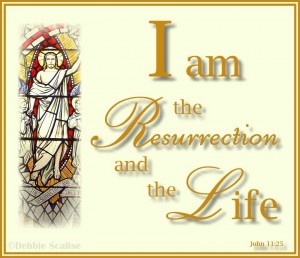 We ask…"Lord, we don't understand how you could allow such sorrow and suffering to devastate our lives, when you can just take it all away." Basically Jesus is saying to us… "You may not understand, but believe me when I tell you that if you believe, you will see."
Think of Abraham ~ He didn't understand why God told him to sacrifice his only son Isaac, but he trusted God and saw His glory when Isaac was restored to him on that mountain!
Think of Moses ~ he didn't understand why he had to spend forty years in the wilderness, but he trusted God, and He used him to deliver the Israelites from slavery in Egypt!
Think of Joseph ~ he certainly didn't understand his brother's cruelty towards him, the false accusations from Potiphar's wife, and the years of unjust abandonment in prison. Yet he trusted God, and look what happened…Joseph became the second most powerful ruler in Egypt. All because God's plan for him was for him to preserve the lives of an entire nation! We have God's Words on his intentions for us:
"For I know the plans I have for you, plans for good and not for evil; plans to give you a future and a hope." Jeremiah 29:11
Let's get back to Lazarus:
Jesus finally arrived at the home of Mary, Martha and Lazarus; but Lazarus was already dead four days. Martha got word of Jesus' arrival, and ran out to meet Him…
"Lord if only you had been here, my brother would not have died." Jesus told her, "I am the resurrection and the life. Anyone who believes in me will live, even after dying. Everyone who lives in me and believes in me will never die." John 11:25-26
Mary then came out as well. When Jesus saw her weeping, and saw the other people wailing with her…Jesus also wept. (Love this; Jesus showed that He cares enough for us to weep with us in our sorrow. Jesus often expressed deep emotions – compassion, anger, sorrow, even frustration. He was once human, He knows. So we can be honest with Him in the way we feel. I know that He understands and cares:)
So everyone went to Lazarus's tomb. Jesus said, "Roll the stone aside." Mary chimed in, "Lord, he has been dead for four days. The smell will be terrible." Jesus says, "Didn't I tell you that you would see God's glory if you believe?" So they rolled the stone aside. Then Jesus looked up to heaven and said, "Father, thank you for hearing me. You always hear me, but I said it out loud for the sake of all these people standing here, so that they may believe you sent me." Then Jesus shouted, "Lazarus, come out!" And the dead man came out, his hands and feet bound in graveclothes, his face wrapped in a head cloth. Jesus told them, "Unwrap him and let him go." John 11:38-44
Can you imagine being an eyewitness to that? Would seeing that make you believe?
"Blessed are those who believe without seeing me." John 20:29